Originally linked from here:
viewtopic.php?t=237
These were created from the UK DVDs. I got rid of most of the blended frames, and edited the US audio to fit with the video. The AVI file has 2 audio tracks, the first will always be the US and the 2nd will always be the UK one. I hope you'll enjoy this! Thanks to Skootch for the US audio.
Download link (Download all 4 parts, use WinRAR to extract):
http://www.mediafire.com/?52mmwhdomwx]E01
WS DL Link 1[/url]
http://www.mediafire.com/?9xl4jedyzwl]E01
WS DL Link 2[/url]
http://www.mediafire.com/?1mdmmjxxnxo]E01
WS DL Link 3[/url]
http://www.mediafire.com/?ax4xaznm0gg]E01
WS DL Link 4[/url]
MD5s of the 4 RARs:
Code:
540e3036f370c0643dafaddb858df946 *e01x_wide.part1.rar
92c325c0916485e9e57bc81b23bd95a1 *e01x_wide.part2.rar
1fafb5961b647ddd9f98ddf51bc8364a *e01x_wide.part3.rar
a5858a1edebd3f9329ccc4197d0091d5 *e01x_wide.part4.rar
MD5 of the file after extraction:
Code:
569e92cbb29efe8601e0cfbe5711ffbc *LazyTown.E01.Welcome.to.LazyTown.xvid.dual.en-us-uk.avi
Stats:
Video: XviD
Audio: MP3 for US and AC3 for UK
Resolution: 768x432
FPS: 23.976
Sample picture: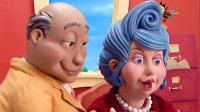 Feel free to ask any questions! By the way, I also have the subtitle files for these episodes if anyone wants them.
EDIT (9-27-2007):
Fixed links. Mediafire one appears to still work.
EDIT (1-30-2008):
Added new links and info. Note: I renamed the file to something shorter. ;)
Want the x264 version? Request it!